While anime fans often gravitate towards globally acclaimed series like Dragon Ball or One Piece, there's something undeniably appealing about Top 10 Slice Of Life Anime To Chill Out To. These shows, devoid of epic battles or clear villains, offer a refreshing break from the action-packed norm. They gently encourage us to savour life's simple joys and find delight in the mundane, just like the endearing characters who populate them.
10) Monthly Girls' Nozaki-kun
Meet Chiyo Sakura, a brave high schooler who confessed her love to Umetaro Nozaki, a secretive shojo manga artist. Instead of reciprocation, she receives an autograph, kicking off her journey to help him with his manga.
Along the way, she encounters eccentric characters and discovers Nozaki's surprising talent for romantic storytelling. This offbeat romantic slice of life is filled with humor and warmth, guaranteed to leave you entertained.
9) My Teen Romantic Comedy SNAFU
Hachiman Hikigaya believes that his life is predetermined since he is stuck in the high school social order where charm and good looks are king. He's not a nasty person at heart; he's only trying to claw his way out of the pit of unpopularity.
His teacher forces him to join a club that helps other pupils with their problems in an effort to alter his perspective. The difficulties on this path to self-discovery force Hikigaya to change.
He must rely on others who support him in order to succeed, including two girls who have feelings for him. Hikigaya's change is depicted in the anime as he navigates this difficult route, giving viewers a chance to unwind and lose themselves in a gripping tale of personal development in the stormy environment of high school.
8) Nichijou
The hilarious anime Nichijou is notable for its endearing characters, who are frequently used in online memes. This television show chronicles the daily antics of three high school pals, fusing sentimental moments with outrageous humor.
The lives of childhood friends and a mysterious trio are intertwined in the award-winning comedic anime Nichijou, creating unending insanity. The show thrives at presenting amusing, unusual situations since it has several storylines going at once.
The ideal slice-of-life anime to chill with is Nichijou. It's perfect for casual viewing due to its contagious energy and progressive attractiveness. You'll become engrossed in the mayhem and eager to see it through to the very conclusion. This anime promises to make you laugh and have a good time whether you're a seasoned anime fan or a novice.
7) Saekano: How to Raise a Boring Girlfriend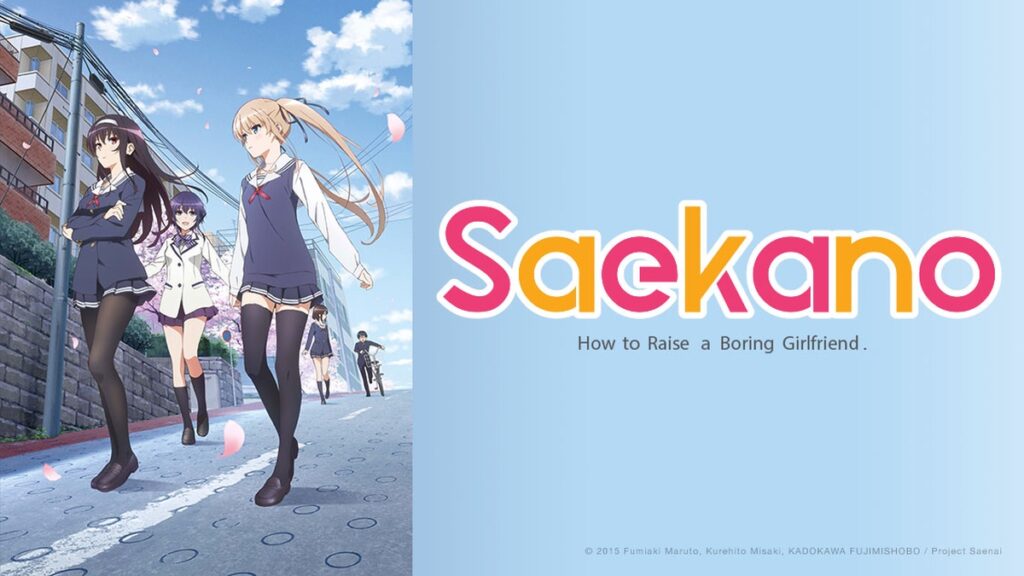 Tomoyo Aki, a high school student who enjoys reading light novels and anime, works part-time to support his interests. He meets Megumi Kato, an introverted classmate, while she is on spring break.
Tomoyo asks for advice from the accomplished artist Eriri Spencer Sawamura and the well-known writer Kasumigaoka Utaha in order to realize his dream of making the best dating sim. They come together to create a team, with Megumi serving as the game's main protagonist.
It becomes apparent that Eriri and Utaha have affection for Tomoyo while they work on their project. He is focused solely on Megumi, though. The plot develops as they attempt to make the ideal dating sim while juggling their complicated feelings and relationships. What is ahead for their entwined hearts, and will they be successful in their creative endeavor?
6) Sakura Quest
Sakura Quest is an uplifting anime that teaches the value of perseverance in life. It centers on Sakura, who sets out on a mission to locate suitable employment but encounters numerous setbacks. She is given the good fortune to work at a tour business in the small village of Manoyama one day.
Her goal is to draw tourists to Manoyama in order to revitalize it. At first, Sakura finds this responsibility to be overwhelming, but with the help of her friends, she learns to flourish in her position. This slice-of-life animation emphasizes the idea that dreams should not be constrained and can be realized with perseverance.
They face various obstacles in their attempt to revive Manoyama, just like the characters in the anime, but they don't give up, and in the end triumph through unshakable dedication and work. Sakura Quest is a heartwarming story of resilience and the pursuit of big dreams.
5) Skull-face Bookseller Honda-san
Bookseller Skull-Face Honda-San chronicles Honda's life as a courteous skeleton who works in retail. This shojo anime is a charming slice-of-life tale based on the author's real experiences while having a frightening protagonist.
Honda handles big book stacks with ease but has problems with international customers, which results in amusing scenarios. He remains committed to offering top-notch service, nevertheless. This distinct anime offers a novel perspective on the category.
Honda offers a dose of reality for individuals who daydream of running a cozy bookstore and enjoying iced lattes. He exposes the taxing realities of bookselling based on his vast expertise. In a friendly and welcoming environment, Skull-face Bookseller Honda-San dramatizes the difficulties of stocking books, delighting clients, and speaking multiple languages.
4) The Devil is a Part-Timer!
The ideal anime to lift your spirits is The Devil is a Part-Timer!. It depicts the story of a devil from another planet who is cast out and has to start again on Earth. This delightful slice-of-life story portrays fantastical characters coping with financial and part-time employment issues. While working at a disturbingly familiar fast-food restaurant, the devil's path also involves developing friendships and starting relationships. It's a sweet show that blends humor and redemption, making it a fantastic choice for a leisurely anime night.
3) The Way of the Househusband
Despite having an unusual animation style, The Househusband anime has a charming and hilarious plot. It follows the transformation of Tatsu, a fearsome Yakuza thug, into a devoted househusband. It is an adaptation of a well-read manga. Tatsu is excellent at organizing, cleaning, and cooking, which impresses his devoted wife Miku.
This endearing series examines a former Yakuza member's daily life and stars acclaimed voice actor Kenjiro Tsuda, notable for performances in Seto Kaiba and Overhaul. Tatsu's amusing attempts to reconcile his domestic duties with his troubled history make up the bulk of the comedy. A distinctive watching experience is offered by the animation, which has voice acting and is done in the style of colored manga. The Way of the Househusband is a delightful anime to relax and unwind with, blending comedy, heartwarming moments, and a touch of mobster charisma.
2) Toradora!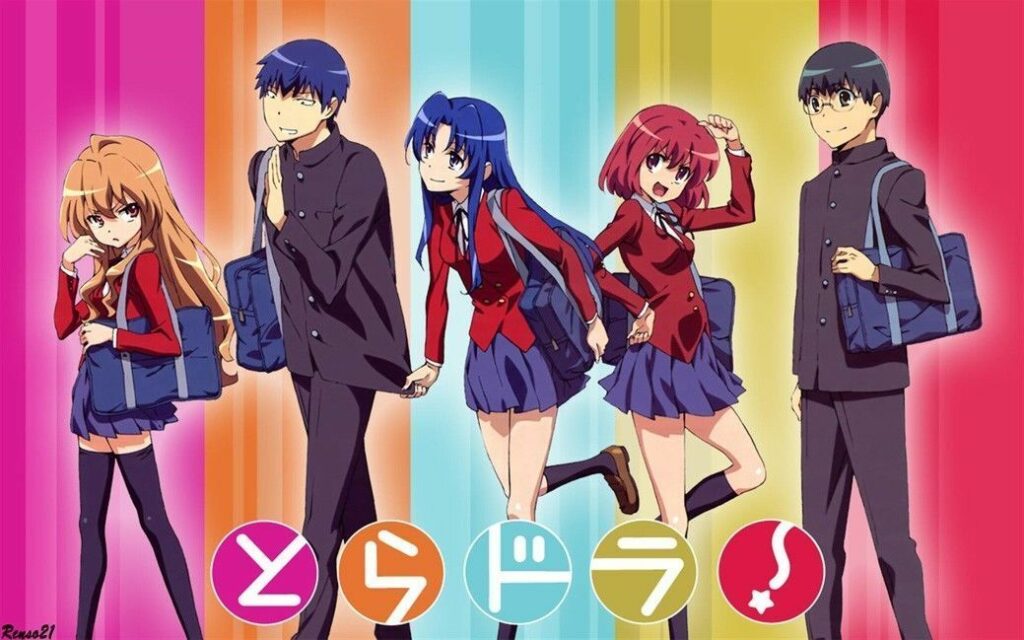 The main characters of the cheerful slice-of-life anime Toradora! are the fiery Taiga Aisaka and the shy Ryuuji Takasu. Ryuuji has feelings for Minori Kushieda, a classmate, whereas Taiga has feelings for Yuusaku Kitamura, Ryuuji's best friend. The two come up with a scheme to help each other win the hearts of their respective crushes, but their tight relationship gradually gives rise to unforeseen feelings.
In spite of his kindness, Ryuji Takasu is frequently misunderstood as a juvenile throughout the series. After his father's departure, he works tirelessly to provide for his family by cooking and doing laundry. However, despite her innocent appearance, Taiga Aisaka is renowned as the "Palmtop Tiger" for her tenacious character. As their alliance forms, Taiga helps Ryuuji confess to Minori Kushieda, and Ryuji assists Taiga in pursuing Yuusaku Kitamura, resulting in a touching tale of friendship and love.
1) Meddlesome Kitsune Senko-san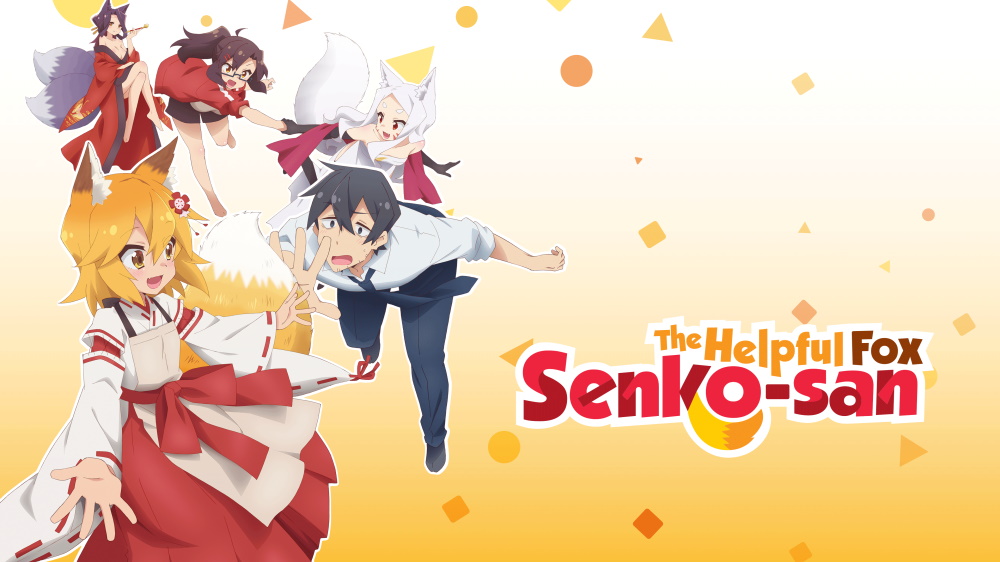 The animated series The Helpful Fox Senko-san provides a relaxing diversion from the hectic pace of an office worker's demanding routine. It centers on the demi-god fox Senko, who turns out to be the best comforter for wage worker Nakano. But not only Nakano gains from the anime's therapeutic influence; but spectators as well.
In the post-credit scenes, where Senko speaks to the audience in a calming tone, this relationship is made clear. By breaking the fourth wall, this little touch reassures viewers that everything will be well. The character of The Helpful Fox Senko-san goes beyond simply consoling the main character to become a refuge for people seeking relief from their own hectic lives.
Also Read: Gen V: A Superpowered Symphony of Satire and Surprise