Whisper Of The Heart And A Better Version Of Yourself
The 1995 Japanese animated film Whisper Of The Heart was created by Studio Ghibli and directed by Yoshifumi Kondo. In the movie, Shizuku, a young girl who wants to be a writer, falls in love with Seiji, a young man who wants to become a master violin maker.
"Don't expect perfection at first"
The tale of Whisper Of The Heart is primarily focused on the character of Shizuku and her personal growth and development as a writer, making it difficult to assess the whisper of the heart in terms of equal partner representation. 
Having said that, Seiji does have a big part in the movie, and their bond is shown to be one of mutual support, with each character supporting and motivating the other in their artistic endeavours.
"I don't want to be a burden! I want to be useful!"
The will to be someone when you are young the need to stand out and be the best partner to your partner is enormous. We all have seen the side of a relationship that brings us turmoil but we fail to acknowledge the better side of a relationship, we tend to outlook it. 
This side of the relationship could figure out what you want from your life, the career you need, and so on. Whisper Of The Heart rightly outlines the part of a relationship when you want to be a better person for your partner.
Release Date
July 15, 1995
Voice Cast
Yoko Honna (Original) – Shizuku Tsukishim – Brittany Snow (English)
Issei Takahashi (Original) – Seiji Amasawa – David Gallagher (English)
Shigeru (Original) – Asako – Jean Smart (English)
Keiju Kobayashi (Original) – Shiro Nishi – Harold Gauld (English)
Maiko Kayama (Original) – Yuko – Ashley Tisdale (English)
Yoshimi Nakajima (Original) – Sugimura – (Martin Spanjers) (English)
Yorie Yamashita (Original) – Shiho Tsukishima – Courtney Thorne-Smith (English)
Directed By
Yoshifumi Kondo
Screenplay By
Hayao Miyazaki
Producer & Production Company
Toshio Suzuki
Studio Ghibli
While you're young, you have a strong desire to succeed and feel the urge to stand out as your partner's best friend. All of us have experienced the problematic aspects of relationships, but we rarely recognize their positive aspects; instead, we often choose to ignore them.
This aspect of the connection might determine what you want out of life, what kind of job you require, and other things. The passage in Whisper Of The Heart that describes the stage of a relationship where you desire to improve yourself for your lover is accurate.
"Once you have found your gems you have to polish them"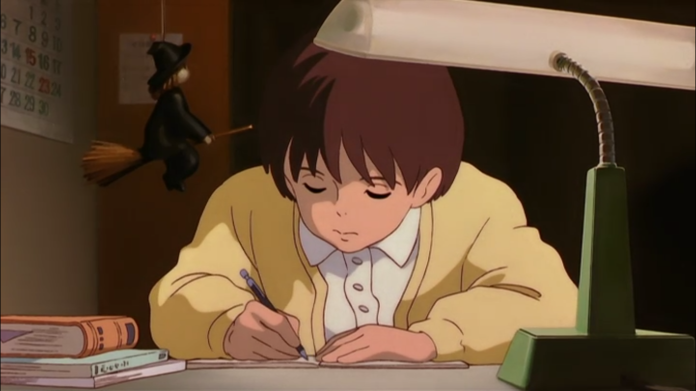 The fact that Seiji's job objectives and talents are potentially given greater prominence and attention than Shizuku's could be one potential point of concern about equitable partner representation in the movie. 
It's important to keep in mind, though, that the film focuses mostly on Shizuku's journey of self-discovery and coming-of-age, and Seiji's function in the narrative is essentially to support and cheer her on as she goes. Seiji's career as a violinmaker is likewise shown positively, but the movie also highlights the effort and commitment needed to follow such a trade rather than just romanticizing it as an unreachable dream.
Shizuku's father is very supportive but he also warns her that "The road is not easy when you do things differently than everyone else"
Ultimately, Whisper Of The Heart is recognized as a touching and tragic examination of young love and creative passion. It continues to be a beloved classic of Studio Ghibli's filmography, despite some areas for discussion regarding the degree of equal partner representation.
"Can't you be in love without determining your future first?
The movie is also a hope for lovers who think that a successful career is impossible if one is in a relationship, if you both respect each other, and have built a trustworthy castle you both together could start something very amazing, you two should inspire each other to become the best and always the better version of yourself. 
If a relationship is worth a future, it's worth a try.
This movie with ease defies all other movies which are insistent on derailing familial relationships, romantic relationships, or friendships to achieve greatness. 
Also Read: Breath Of Fresh Air In A Time Of War: Ant-Man
According to our Scopo-Meter, we check the following in this movie:
| | |
| --- | --- |
| Category | Out Of 5 |
| INTENT | 5 |
| PLOT | 5 |
| ANIMATION | 5 |
| CLARITY | 4 |
| OVERALL | BOMB / GOOD / NICE / FINE / HMM / PATHETIC |
FilmScopes Thank the creators of the movie for creating a safe space for couples in love, a space where they could prove to be each other's strength.
The scope of the movie at present is positive since we see the number of divorces increasing and people often find incompatibility. Here again, if your partner and you have burned the ship of leaving each other and you both are trustworthy, you are good to go for an amazing life.