According to our Scopo-Meter, we check the following in Bholaa:
| | |
| --- | --- |
| Category | Out Of 5 |
| ACTING | 4 |
| SCRIPT | 3 |
| PLOT | 3 |
| ACTION | 5 |
| OVERALL | BOMB / GOOD / NICE / FINE / HMM / PATHETIC |
FilmScopes thank the creators of the movie for proving that remakes do not necessarily degrade the quality of a film itself. 
The stunt choreography was phenomenal and we love to support hardworking stunt teams whenever possible due to them mostly being robbed of the attention they deserve.
Ajay Devgn's Spin On Kaithi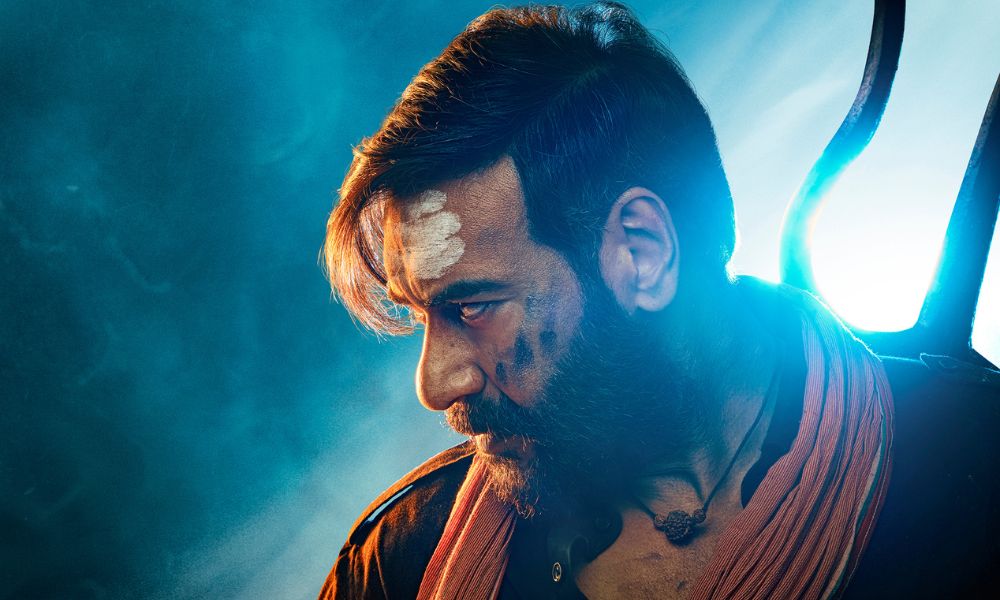 It's no secret that Ajay Devgn took a generous supply of inspiration from the Tollywood film. The actor/director has made sure to honor the source material as closely as possible. This begs the question to a lot of the audience and our readers – "If they honored the source material as closely as possible, why should I watch Bholaa when I can watch Kaithi?".
By all means, go ahead and watch whatever you want dear reader. These two films, however, still have stark differences in their delivery and style. While Kaithi feels more savage, Bholaa feels more mysterious. Ajay Devgn seems as if he has taken close consideration into how he wanted to make Bholaa his own film and not just a scene-to-scene copy of Kaithi.
The main character of the movie is Bholaa, who was released from prison after ten years there. First on his agenda is to visit his house and meet his small daughter. He has no idea that life has other plans for him, though. Our protagonist must navigate a path lined with treacherous obstacles, with death waiting at every turn.
Ajay Devgn's version of Kaithi amplifies an already action-packed film using psychedelic hues. The close-ups that give an otherwise entirely accurate remake a frequently off-kilter sense are maybe best complemented by the IMAX screen.
The Lokesh Kanagaraj-written and -directed 2019 original Tamil film appropriated the "wrong place, wrong time, right guy" idea from a number of Hollywood productions. Assault on Precinct 13 to Mad Max: Fury Road via Con Air to name a few.
"It iS a ReMAkE sO It MUsT bE BAd"
It is false and out-of-date to believe that Bollywood remakes are inherently awful. Like any other kind of film, remakes can be executed with imagination, talent, and invention to produce a novel and engrossing cinematic experience.
Remakes can in fact have a number of benefits. First and foremost, they provide filmmakers a chance to reimagine and modernize old stories for modern viewers, giving timeless stories a fresh perspective.
As a result, stories can be changed to fit the current societal and cultural context, which makes them more resonant with and relatable to contemporary audiences.
Second, technological developments in filmmaking, such as greater visual effects, higher production values, and superior sound design, might help remakes.
These developments can raise a movie's production values and quality overall, making for a more engaging and visually appealing experience.
Additionally, remakes frequently use new talent, both in front of and behind the camera, which can contribute new viewpoints and concepts, resulting in imaginative and original storytelling.
Designed To Show Off Stuntwork
Ajay Devgn has never been one to shy away from exaggerated action scenes. With the fact that the Singham actor took a great amount of care for detail and supplied the movie's creation with more than enough dedication, Bholaa stands as one the greater action movies aside from Pathaan from Bollywood in 2023 as of now.
The film's box office just represents how popular and successful the film has done since its release. It currently has obtained more than 2 crores. The one aspect that this film does extremely well for its success in the theatres other than its music is its stuntwork.
As many may have already noted from the trailer, Bholaa excels in its action. This is mainly due to the fact that the stunt team performed in an outstanding fashion and kept the action scenes pumping the audience full of anticipation and adrenaline.
A special mention to Deepak Dobriyal who outshines the most in this film. His bizarre and over-the-top violent behavior does wonders in creating a sense of dread and danger throughout the film.
The Experience Depends On Whether You Watch To Enjoy Or Judge
Whether you see movies that are meant to entertain rather than inspire affects how you feel about them. You may truly engross yourself in the plot, characters, and images of these movies if you approach them with the purpose of simply enjoying them rather than being overly critical.
You can enjoy these movies' escapism by letting yourself be carried away to other realms, laughing at the humor, experiencing the excitement of the action moments, or indulging in romance and drama. You can enjoy and feel satisfied after watching these movies if you put your judgment aside and accept their intended entertainment value.
On the other hand, you risk missing out on the intended delight if you watch these movies with the intention of criticizing or evaluating them. Entertaining movies aren't designed to be analyzed or scrutinized for social criticism or deeper meaning.
Instead, they are intended to offer levity, comfort, and entertainment. You might not completely appreciate the intended entertainment value if you approach them with too critical lenses, focused on defects, inconsistencies, or a lack of depth, and you might end up feeling disappointed or unhappy.
Also Read: Bheed: When We Look Beyond Our Privileges