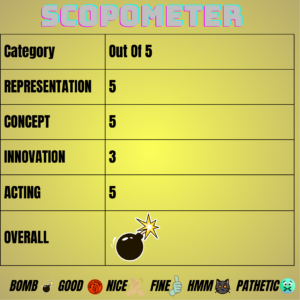 For those who missed the plot of PK: In Delhi, Jagat Janani (Anushka Sharma) meets PK, a strange character played by Aamir Khan. Jaggu is troubled by PK's weird actions and language. His unusual behavior includes urinating in public to get apprehended and robbing beggars. PK appears to have no idea about how to live on Earth and searches frantically for anything valuable while pleading with God for guidance. This is the beginning of his journey to understand life, which finally enlightens us about its purpose.
Lost in the Cosmic Shuffle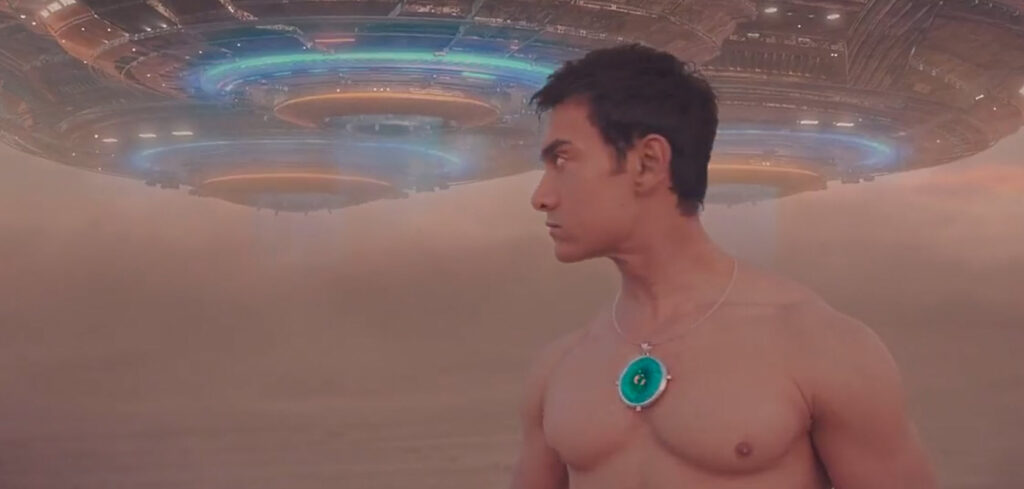 Earthlings are perplexed when one of their own is dropped off by a bright spaceship in the Rajasthani desert for an alien research mission. They give him the local slang moniker "PK," which means "tipsy."
When PK's one remaining chance to get home is dashed, he sets out on a trip through the intricate web of interpersonal relationships and the mysterious world of religion.
PK takes part in the rites of several important Indian religions, including Jainism, Christianity, Sikhism, Hinduism, and Islam, in a moving montage.
Such a topic has a fantastic range of creativity. However, as you build it in celluloid, it begins to lose some of its fancy. Where this parallel ends requires no special knowledge.
But PK provides the appropriate level of resistance. The experience is enhanced by Rajkumar Hirani's dexterity as a storyteller. An excellent idea is carried through mediocre execution to a passable, if not excellent, finale.
Radio Silence from the Afterlife
Rustic Bhairon Singh (Sanjay Dutt in a heartwarming cameo) likes Aamir Khan's alien, a paan-chomping Chaplin from space who is befuddled by human life. Aamir Khan's level of dedication in the movie is fantastic. His demeanor, facial expressions, and command of Bhojpuri serve as models for future performers to follow. Aamir Khan's involvement in PK will always be unique.
When a stranger named PK challenges these beliefs and concepts, the lives of Jagat Janini and everyone around her are the focus of the movie PK, which is a satire on God and Godmen as well as certain overly simplistic ways of living that we tolerate.
Did You Know This About PK?
By declaring, "Do not waste the valuable time of the Court by applying stupid logic," the Supreme Court of India dismissed the request for the banning of PK submitted by some Hindu organizations.
The first Indian film to gross $100 million at the global box office.
For Sanjay Dutt, who was imprisoned, Aamir Khan had organized a special screening of the movie.
Prior to the movie's release, the filmmakers recovered Rs. 85 crore, and the distribution rights brought in Rs. 145 crore.
To portray his character's fondness for Paan, Aamir Khan ate an average of 100 paans every day while filming, totaling 10,000 paans. To change his ears for the lead role and give them a more extraterrestrial appearance, Aamir wore two earpieces. Despite his agony, he kept shooting, pausing only once because of ear pain and redness. He relied on ice packs for comfort, but he had to stick it out while filming.
PK's Unheard Wisdom
The movie asks a provocative question about how we view religious figures, especially those who claim to talk to God. As an Atheist, I was struck by how the film depicts these 'Godly Men' with their false smiles and hollow words, emphasizing how people often equate their actions and their wealth with pleasing a greater power.
What makes PK stand out is the rational argument against blindly adhering to religious rituals and characters. The director cleverly uses an alien character to ask logical questions without taking an official position. The film recognizes the role of religion in inspiring faith and hope in people while also revealing the corruption that can come with the same system.
In PK, the villain isn't your typical Bollywood baddie. He's a godman who preys on the gullibility of his followers. When faced with the embarrassment of appearing on a TV show, he doesn't resort to the typical violent tactics we see in Hindi movies. PK is a refreshing story that doesn't rely on traditional plot devices.
Also Read: Amour: The Classic Conundrum Of Morality