For those who may not about You Are So Not Invited To My Bat Mitzvah: Both Sunny Sandler and Sadie Sandler, who play the cynical elder sister Ronnie and the 13-year-old Stacy Friedman who is dealing with her first infatuation, her first BFF fight, and her one and only bat mitzvah, are obviously aspiring performers. But the picture, which is based on the Fiona Rosenbloom novel, has a peculiar, endearing charm thanks to the Sandlers' warm relationship and real family chemistry.
The movie is a tribute to the suffering and messes of young people who are approaching adulthood. And Adam Sandler is writing a heartfelt letter to his family. His wife portrays the mother of his daughter's closest friend, while he plays the father of characters shown by his real-life daughters.
Bat Mitzvah Dreams & Drama Queens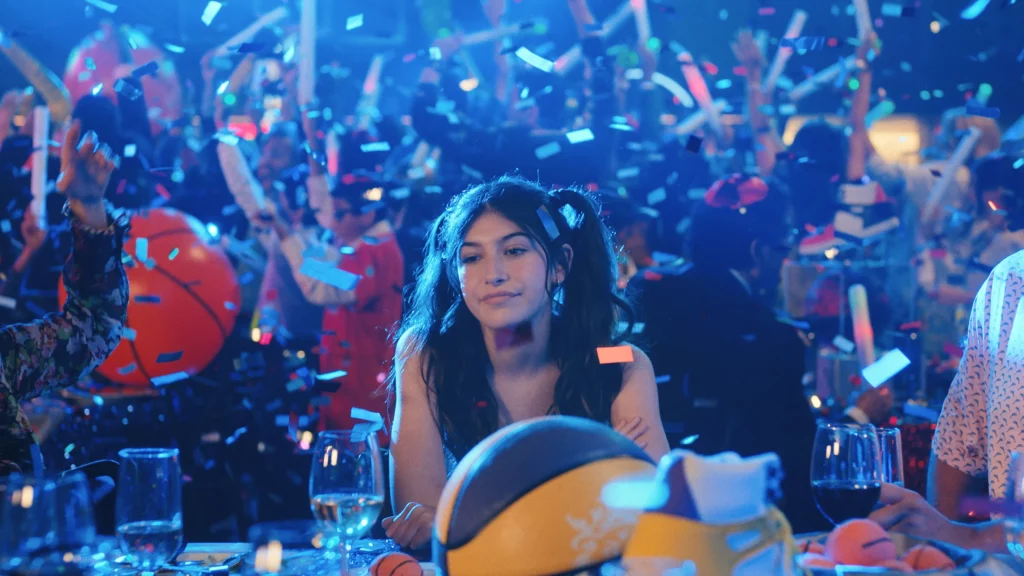 Stacy Friedman, the main character of You Are So Not Invited to My Bat Mitzvah, confides in God in a manner reminiscent of a well-known Judy Blume character. Stacy is negotiating middle school's difficulties while keeping an eye on her upcoming bat mitzvah, which she thinks will define her future.
She spends time with her best friend Lydia when she isn't organizing her ideal bat mitzvah. When Stacy sees Lydia kissing her boyfriend, Andy Goldfarb, their friendship takes a turn, leading online rumors and conflict at Hebrew School to ruin their ideal bat mitzvah plans.
Friendship Fractures: Middle School Mishaps
As for the depiction of middle school, that hard transitional period between the innocence of childhood and the full tangle of teenage angst, Sammi Cohen, working from a screenplay by Alison Peck deserves praise.
They see themselves living next to their adorable lovers in Taylor Swift's building in Tribeca. They are so devoted to one another that Lydia wrote the speech, which was the most intimate component of Stacy's bat mitzvah ceremony.
n order to generate "awwwws" from the crowd before Lydia makes her grand appearance at the celebration, Stacy does something equally important for Lydia: she makes the cute biography video.
The appearance of Andy Goldfarb, the curly-haired class heartthrob with a Star of David pendant and the near-superhuman sheen that comes from being confident at an age when most kids are crushed with insecurity, is one of the key components of her fantasy of a game-changing bat mitzvah party.
All of Stacy's attempts to attract Andy's attention result in embarrassment, but when the popular kids, including Andy, begin to focus on Lydia Rodriguez Katz, Stacy directs all of her embarrassment and jealousy at her devoted friend.
Did You Know This About You Are So Not Invited To My Bat Mitzvah?
Sunny Sandler, the daughter of actor Adam Sandler, plays Stacy Friedman in You Are So Not Invited To My Bat Mitzvah. Sadie Sandler, Sunny's real-life sister, plays Stacy's sibling Ronnie. Adam Sandler plays Stacy's father Danny in the movie. Jackie, Adam's wife, plays Gabi Katz in the movie as well.
Adam Sandler's character remarks, "We can sit with the Laminsoffs" at a bat mitzvah party. A recurring character's name in all of his films.
The first feature picture directed by a woman since Tamra Davis and Adam Sandler collaborated on Billy Madison in 1995.
Danny Friedman, Adam Sandler's character name in this film, is a combination of his character's first name from Just Go with It (2011) and last name from Blended (2014), respectively.
Rites of Passage: Laughter and Life Lessons
The deceptions and many flashbacks never venture into ridiculous territory (Sandler's patriarch is edgy but restrained here), instead landing somewhere in the realm of consistent, quiet beauty. Although it has heavy jokes, You Are So Not Invited to My Bat Mitzvah achieves what many mainstream teen movies aim for in humor without the edginess, but with a pinch of realism, culturally specific but still appealing to the masses.
Cohen keeps You Are So Not Invited to My Bat Mitzvah moving at a briskly comic pace, but when Stacy is allowed to wrestle with such ugly feelings, it also manages to be genuinely moving. Stacy is self-absorbed, but that's just part of being 13 when your emotions are so overwhelming they threaten to block everyone else's view.
Also Read: PK: A Great Message From The Beyond That No One Heard