According to our Scopo-Meter, we check the following in Suzume no Tojimari:
| | |
| --- | --- |
| Category | Out Of 5 |
| ACTION | 4.3 |
| ANIMATION | 4.9 |
| STORY | 5 |
| PACE | 4.7 |
| OVERALL | BOMB / GOOD / NICE/ FINE / HMM / PATHETIC |
FilmScopes thank the creators of the anime for crafting one of the most engaging and inspiring movies of all time, a near-perfect work of art that portrays important lessons in a subtle but invoking manner, teaching values of friendship, family, love, and humanity to all, all at once.
Suzume no Tojimari is a supernatural modern action-adventure movie released on 11 November 2022 in Japan and on 12 April 2023 in theatres worldwide. It is created by Makoto Shinkai, who is also famous for some of his other works of similar nature such as Your Name and Weathering With You.
Impact
Suzume is a masterpiece of a movie that expertly conveys its message and emotions to the audience. The film explores the lengths people will go to for those they love, whether it be friendship, guardianship, or romantic love.
The characters are all dedicated to fulfilling their purpose, such as Suzume Iwata helping Souta Munakata in his chair mode or freeing him from being the keystone of the Tokyo region so they can be together.
Additionally, the film portrays a positive image of society by highlighting the many selfless acts carried out by the supporting characters who help Suzume on her adventure without expecting anything in return, even if they are unaware of her situation.
Character Reviews
Suzume Iwata: Suzume, which means happiness, is the main character in the movie and her name reflects her personality. At the age of 4, Suzume lost her mother in a tsunami while searching for her and unintentionally entered the "ever-after," the world of the dead, through a unique door.
Twelve years later, she still has faint memories of what she saw. One day, she sees Souta and feels a sense of familiarity. While quietly observing him, she accidentally releases a keystone that holds a calamity-causing worm and thus begins an adventure to close doors throughout Japan with Souta, who has been turned into a chair by Daijin.
Suzume is a well-crafted character who connects deeply with the audience due to her pure character and pursuit of love.
Souta Munataka: Souta is a young college student whose physical appearance bears a striking resemblance to Eren Yeager, the protagonist/antagonist of Shingeki no Kyojin.
He is a closer by inheritance, responsible for locking doors that prevent the worm from escaping and destroying the earth. Additionally, he is the love interest of Suzume. Daijin turns him into a keystone, but Suzume ultimately saves him.
Daijin: Daijin, a small mostly all-white cat with a dark grey spot around its right eye, is a remarkable character in the movie Suzume no Tojimari. It is one of the two Keystones and has the unique ability to speak human language.
The locals even nicknamed Daijin "minister" because of its appearance similar to an ancient minister. Suzume, one of the main characters in the movie, had unknowingly released Daijin from its seal by Suzume on its post at the door located at Kyushu.
It is interesting to note that Daijin's health appears to be connected to Suzume's emotions toward it.
The Worm: The main antagonist is a giant supernatural worm that lives in the Ever After realm. However, this worm can enter the real world through mysterious doors located throughout Japan in places that have been left abandoned due to natural calamities.
These doors need to be locked by Suzume and Souta to prevent the worm from entering the real world. The "worm" is a grim reimagination of the very real nightmares faced by Japan, it is a representation of the frequently occurring natural disasters that occur in Japan.
It is shown that this worm is a great evil that causes these ill events and must be prevented to safeguard the well-being of Japan and its residents.
Conclusion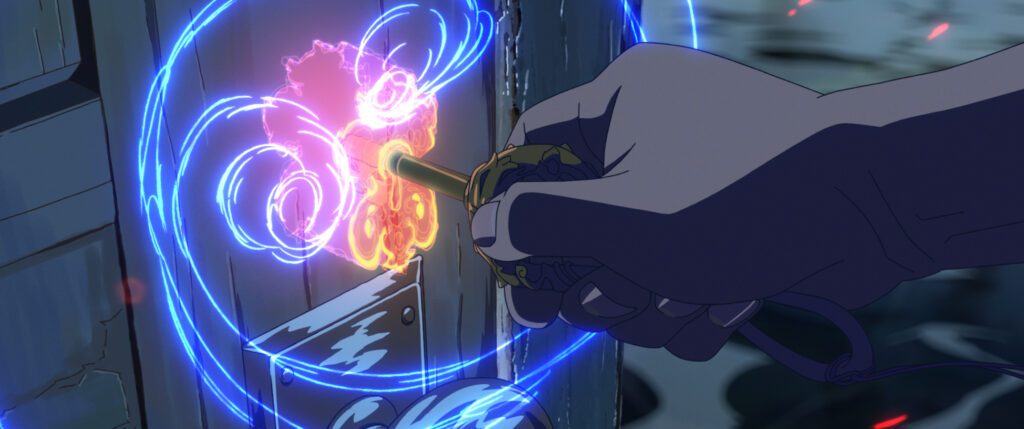 In summary, Suzume no Tojimari is a beautiful animated movie that showcases a multitude of concepts and teachings with perfect transparency, detailing, and pace.
It can adhere to audiences of all age groups and is surely going to move a lot of people and change a lot o lives all for the better. It was a fantastic treat to watch from the very beginning right to the last moment.
As a cherry on top, the main theme/title track of the movie is extremely soothing and addicting, the movie and all of its multiple aspects provide peace and joy to the heart, mind, and soul.
Highly recommended for everyone.
Also Read: Oshi No Ko – The Underdog Superstar Of Anime