Tim (Gleeson) receives his father's (Nighy) ability to travel across time on his 21st birthday. His goal was to find genuine love.
Tim (Domhnall Gleeson) in About Time discovers that the men in his family have the ability to travel back in time. They subtly alter their lifestyles without suffering severe temporal repercussions.
When Tim first meets Mary (Rachel McAdams), he immediately develops feelings for her. He arranges chance meetings with Mary using his time-travel abilities to avoid being creepy. Charlotte, played by Margot Robbie, gives the narrative more depth.
A Timeless Tale of Love and Loss
About Time is a typical Curtis movie, complete with its well-known positives and negatives. You may anticipate intense feelings, a cast of likable and annoying auxiliary characters, a romance involving an American woman and a British man, a lot of language, and, of course, a lot of rain.
However, Curtis also returns to his well-worn road of boy-meets-girl stories in this film. Due to pointless subplots involving infants, vehicle accidents, and family issues, About Time drags in the middle and clocks in at a lengthy two hours. Curtis takes his time in explaining the very cliched lesson that time is limited and exhorts us to value each moment, our loved ones, and our fellow human beings.
Despite its limitations, About Time is an emotional rollercoaster. It will make you cry because it is genuinely amusing and sweet. It achieves a delicate balance between whimsy and relatability, making it entertaining to watch.
Clocking Emotions: The Slow Unraveling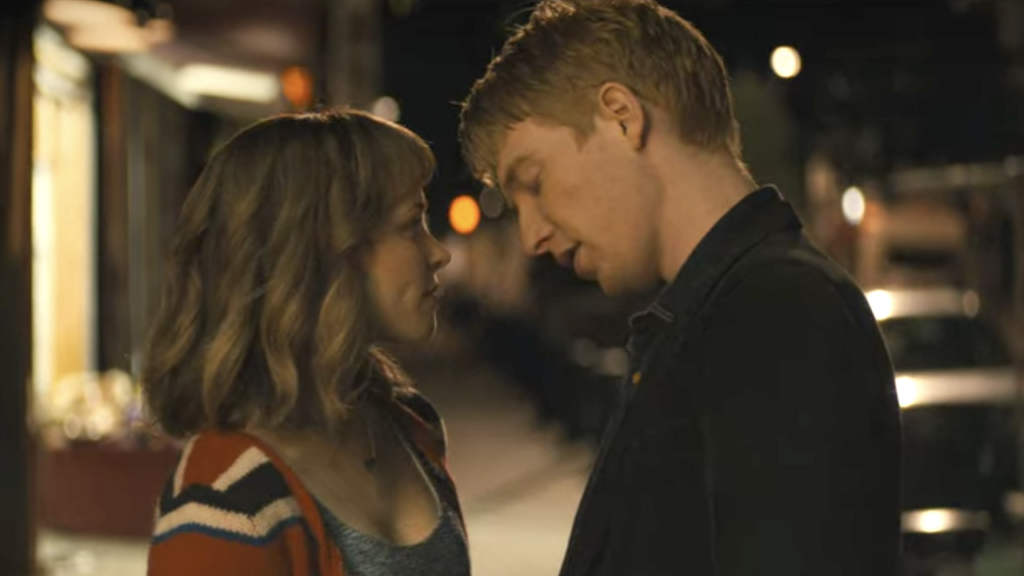 Tim's path is focused on love, whereas Tim's father reads a lot, especially Charles Dickens. Tim has the endearing ability to meet Mary on three different occasions as a result of timeline twists, despite some failed starts. With the exception of her adoration for Kate Moss, Mary is portrayed as an almost perfect All-American sweetheart.
Due to problems with time travel, wooing her numerous times is necessary, yet each encounter is delightful and uplifting. Tim seems to have a charmed life where every problem is simply fixed, and this idea can be applied to the entire movie.
The fathers and boys are the actual focus. And Curtis has discovered a winning combination to add to one that has previously worked so well for him for years in Bill Nighy and Domhnall Gleeson, a none more British Dad and his Boy.
Both as the early hormonal fool yearning after females who are so far out of his league that they might as well be aliens and as the movie's charismatic grown-up in the latter half, Gleeson is fantastic.
Did You Know This About About Time?
In About Time's concluding scene, Charlie Curtis, the director's son, plays Tim.
This was Richard Griffiths' final film before his death.
About Time became an unexpected hit in South Korea, where more than 3 million people viewed it.
When Tim and Mary first meet, they are at a restaurant where the staff are blind and the customers are completely in the dark while they eat. Such a restaurant can be found in London at Dans le Noir, 69–73 St. John Street.
Three actors from the Harry Potter series appear in this film: Domhnall Gleeson, Bill Nighy, and Richard Griffiths.
The remark "You can't kill Hitler or shag Helen of Troy" by Bill Nighy to Domhnall Gleeson is hilarious for cinema buffs for at least two reasons. Initially, Bill Nighy portrayed General Friedrich Olbricht in the 2008 dramatization of the Hitler murder attempt, Valkyrie. Second, Menelaus, the King of Sparta and Helen of Troy's husband was portrayed by Brendan Gleeson (Domhnall's father) in the 2004 film Troy.
Timing Is Everything: A Roller-coaster of Feelings
The on-screen chemistry between Gleeson and McAdams is outstanding, especially in their portrayal of the love between dads and sons, which is a highlight for the writer-director. The other members of Tim's close-knit family, including his mother (Lindsay Duncan), uncle Desmond (Richard Cordery), and independent sister Kit Kat (Lydia Wilson), also share this primary concept. But as time passes, Kit Kat's carefree attitude takes a terrible turn and turns into a crushing weight. However, the story eventually centers on the steadfast ties that bind the family.
The episodic aspect of life is celebrated in Curtis' screenplay rather than centered on strong conflict, which is oddly both its greatest strength and quality for which Curtis has come under fire. The lesson the novel teaches about how people choose to spend their lives is more important than the protagonists' implausible, overly romanticized images of themselves.
Tick-Tock Tears: Navigating Life's Twists and Turns
A pleasant movie called About Time urges viewers to accept a straightforward but endearing tale. In the starring character, Domhnall Gleeson delivers a wonderful eccentricity, and Bill Nighy's alluring charisma lights up the screen. Despite brief incursions into overt sentimentality, the film nevertheless manages to produce a few hilarious moments.
Beyond its time-travel rom-com premise, About Time challenges viewers to consider the tough problems in life and offers no easy solutions. It provides both humor and sincere emotion while striking a balance between being intellectual and lovely. Living each day twice, the father's main piece of advice to the protagonist captures the movie's fundamental theme of living life to the fullest.
In response to prior criticism, director Richard Curtis uses the episodic structure of the story as a strength. In the end, the film's lovely message is that life is unpredictable and that one event often leads to another.
Also Read: The Unbearable Weight Of Massive Talent: Classy And Cheesy