The most recent film from Warner Bros. made $2.55 million, increasing its US gross to $575.4 million. The global box office for Barbie's movie this year was $1.3 billion, coming in second to The Super Mario Bros. Movie at $1.35 billion.
Barbie has surpassed The Dark Knight's $534.9M domestic gross from 2008 to become Warner Bros.' highest-grossing domestic film. Harry Potter and the Deathly Hallows Part II, with $1.34 billion, is the studio's top international earner.
For National Cinema Day, Universal's Peacock streaming service will re-release Super Mario Bros. The week of September 22 will see Barbie's debut Imax run, which will include brand-new end credits.
Since Harry Potter and the Deathly Hallows: Part II, this is also the first time Warner Bros. has been able to claim the distinction of the year's biggest release.
Breaking Plastic Ceilings: Barbie's Feminine Revolution
The Super Mario Bros. Movie took 138 days to reach $574.2M, whereas Top Gun: Maverick from Paramount/Skydance took 40 days to achieve the same milestone. Barbie is finishing in just 34 days. The Greta Gerwig-directed movie, which has the highest box office total of any film directed by a woman, made $569.3 million through Monday.
Less pink merchandise and its theme and target market hold the key to Barbie's potential box office success. Very few films are able to appeal to women without being patronizing. Such rarity distinguishes out in today's diversified film environment. Even if Hollywood is becoming more diverse, female-led films defy established norms.
Only 33% of the top 100 grossing films in 2022 included female protagonists, frequently in genres favored by male viewers. For instance, the historical action movie The Woman King features women. The multiverse fight movie Everything Everywhere All At Once is about a mother and daughter, and the horror movie Scream 6 is the sixth in a long queue. Although these films are well-regarded and strive for a wide audience, they defy stereotypes and have little to do with the color pink.
On the set, Gerwig's crew used so much pink paint that there was a global shortage. Even still, the strategy is enjoyable and is presented with a wink, making it seem like something that both adults and young children will enjoy.
Barbie Unboxed: A Playful Punch to Misogyny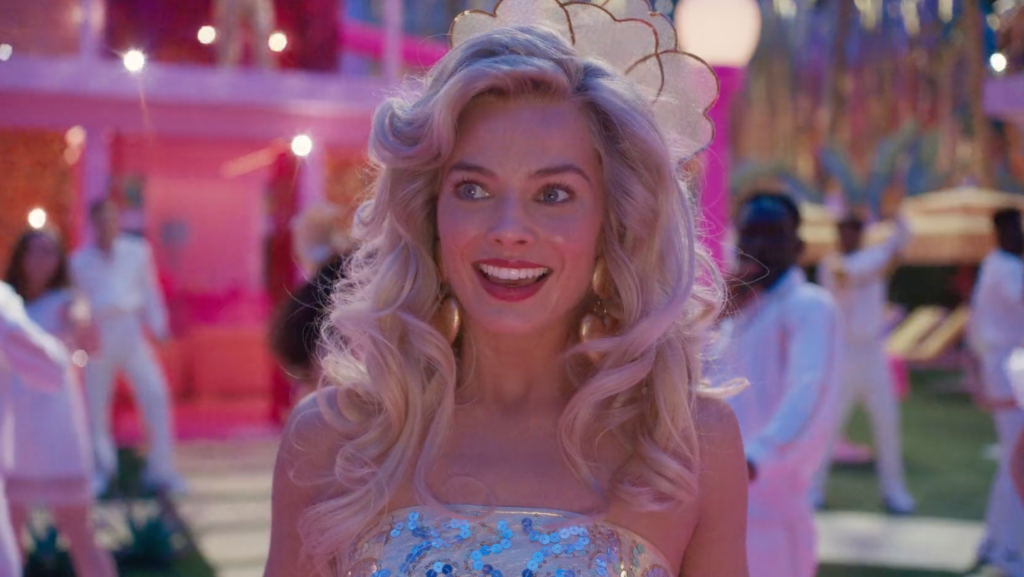 Although there are no overt LGBTQ references in Greta Gerwig's tongue-in-cheek picture, it quietly discusses diversity and inclusiveness and stars a trans actor. Barbies are portrayed in traditionally male-dominated positions such as president, diplomat, and Supreme Court justice in the movie, which emphasizes female empowerment from the outset.
As the plot develops, tension is generated as the matriarchal utopia of "Barbieland" is threatened by patriarchy. The movie has drawn attention in Saudi Arabia, where homosexuality is still illegal, echoing the region as a whole, and where female activists still face prosecution for making online comments that break strict dress regulations.
From Dollhouse to Boardroom: Barbie's Empowering Evolution
Teenage males are a common target audience for high-budget contemporary films, which largely include male characters and themes. With a few notable exceptions starring women, most of the top-grossing domestic films during the past ten years have been male-oriented. It's vital to remember that women are interested in these films as well.
There aren't many female-focused films that explore subjects except romance. Examples like The Devil Wears Prada addressing work-life balance and Mean Girls exploring female friendships have become classics. Their popularity was aided by well-known actors and actresses including Meryl Streep, Anne Hathaway, and Amanda Seyfried which added to their reputation.
Greta Gerwig, well known for her work on Lady Bird and Little Women, hopes to break into the blockbuster market with more ambitious endeavors like the Narnia adaptations. While her previous films focused on women's interiority, she now aims to bring this depth to a wider audience on a bigger scale.
Beyond Pink and Pretty: Barbie's Battle Against Gender Bias
The success of Wonder Woman and Captain Marvel should be taken into account by detractors of Barbie's female-centric perspective. Others contend that Barbie only uses phrases to superficially combat gender inequalities.
Barbie has been criticized for having a foreign influence that blurs the lines between genders, a charge that is similar to conservative responses in the United States. There are even reports of several males storming out of the theatre in rage.
Will Ferrell, Kate McKinnon, and Issa Rae are a few of the outstanding actors who appear in Barbie. It is full of all kinds of allusions, such as nods to the Adam and Eve myth, vintage Hollywood musicals, and critiques of capitalism.
One thing never changes in studio decisions: successful films typically have strong box office performance. Even within well-established IPs, giving renowned filmmakers creative flexibility might appeal to viewers looking for something different.
While the film does a great job of story-telling and providing a balanced view of a matriarchal and patriarchal world, there are still some who think with their genitals and not their brain.
This is a humiliation of Men and it's making us As men look bad, Glad I did not go see this Movie 😂. Male and Female are Both Awesome.

— A God named Sparkles #ReleaseTheWebbCut (@JacobTwigg12) August 21, 2023
While some may have valid points. None were present in the majority of the Barbie-hating crowd. As we can observe from this tweet that just goes to show how it looks like when you talk about a film without watching it.
A shame. Barbie had no right making that much money. But I guess that's the power of a movie that treats men as evil and that women are somehow not treated well.

— Blueblade13 (@Blueblade131) August 24, 2023
Then there are the extremists, who love to stir their conspiracy cauldron and stew up a whole bunch of nonsense.
It's unfortunate that so many young girls are being indoctrinated by the draw of good special effects and a historical Icon that has been twisted into a man hating socialist!

— zero g templar (@zerogtemplar1) August 24, 2023
Adding A Little Fuel To A Useless Fire: Barbie's Accomplishments
Biggest 2023 Opening: Barbie outperformed The Super Mario Bros. Movie, 2023's reigning box office champion, with a $146.3 million 3-day opening.
Top Female Director Opening: Greta Gerwig's film surpassed Captain Marvel as the highest-grossing female-directed opening, with $103.3 million previously held by Wonder Woman.
Unprecedented Non-Sequel Debut: The film secured the highest opening for an original, non-sequel, non-remake, and non-superhero movie.
Margot Robbie and Ryan Gosling Record: Lead actors Margot Robbie and Ryan Gosling achieved personal bests in box office openings, surpassing their prior records.
Largest Toy-Based Film Opening: Barbie became the toy-based film with the largest opening weekend ever.
Non-IMAX Opening Record: Barbie overtook The Twilight Saga: New Moon for the biggest non-IMAX opening weekend.
Historic Domestic Weekend: With Christopher Nolan's Oppenheimer, this marked the fourth domestic weekend surpassing $300 million, with the film's global earnings reaching $337 million.
Warner Bros. Monday Record: Barbie set a new Monday record for Warner Bros. with a $26.2 million take.
Second Best Non-Holiday Monday: Barbie's Monday performance stood as the second-best for non-holiday/non-Christmas films, trailing only Avengers: Endgame.
Post-COVID Friday Record: The film had the most substantial second Friday post-COVID, outdoing Top Gun: Maverick.
Top Warner Bros. Opening Week: Barbie secured the highest opening week for a Warner Bros. film.
Impressive Second Domestic Weekend: Barbie's second weekend grossed $93 million, beating The Super Mario Bros. Movie.
Landmark Second Monday: Barbie's second Monday surpassed Top Gun: Maverick's record for non-holiday/Christmas movies.
Best Female-Directed Grossing Film: Barbie, directed by Greta Gerwig, became the highest-grossing movie directed solely by a woman.
Billion-Dollar Success: In its third weekend, the film joined the post-COVID billion-dollar club, achieving the feat in 19 days.
Warner Bros. Pinnacle: The film became Warner Bros.'s highest-grossing film ever in the US.
Top Film of 2023: On August 23rd, Barbie overtook The Super Mario Bros. Movie as the highest-grossing movie of 2023, potentially entering the top 10 all-time grossing films.
Also Read: Barbie: Breaking Stereotypes And Challenging Patriarchy With Pink Creativity