A Film That Turned Pages For The Women Of Today.
The biographical drama film "Erin Brockovich," which Steven Soderbergh directed and starred Julia Roberts in the title character, was released in 2000. The film depicts the true story of Erin Brockovich, a single mother who takes on a huge corporation as an unusual legal fighter.
"I was a simple girl born and raised in Kansas, I grew up with a learning disability. I was a single mum, and I definitely struggled in a male-dominated world. But you need to allow yourself those moments to cry."
Erin, who struggles to make ends meet throughout the movie, can't get a job because she hasn't had any formal schooling or work experience. As she accepts a position as a file clerk at a tiny law office, she learns that Pacific Gas and Electric (PG&E), a nearby utility corporation, has been poisoning the water supply in the California town of Hinkley with poisonous chemicals, well they were ignorant because many times we ignore the big corporations and their unethical practices.
"The worst sense of security is a false one."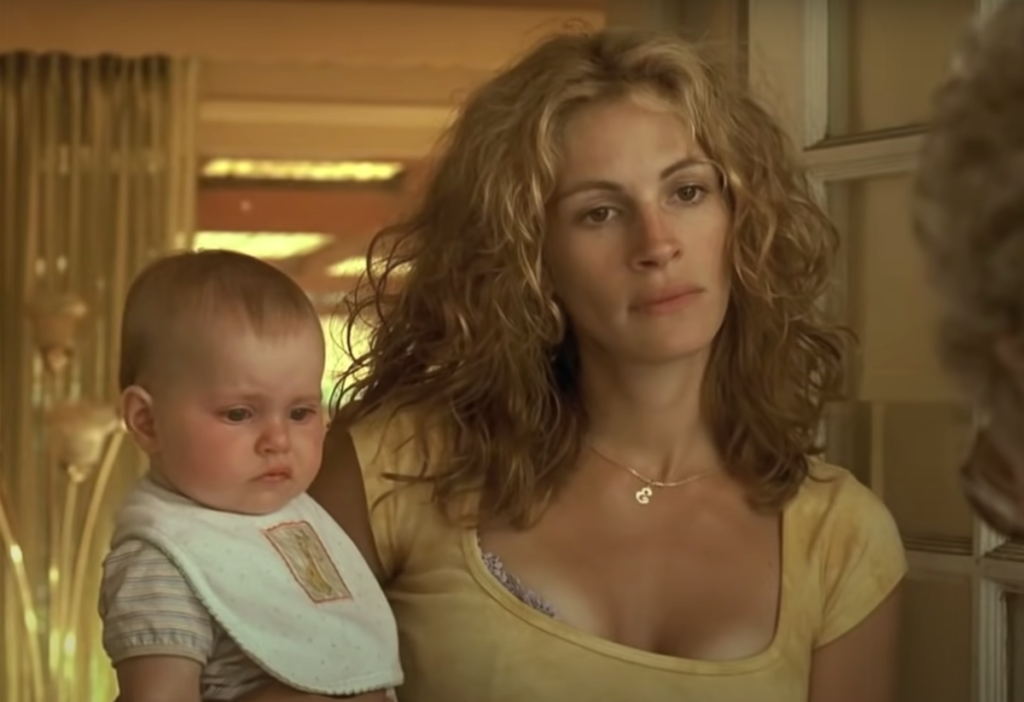 After conducting an investigation and gathering evidence, Erin persuades her supervisor to bring a lawsuit against PG&E on behalf of the town's people. Erin and the law firm prevail in the case and obtain a $333 million settlement for the impacted residents despite the fact that the deck is stacked against them.
Release Date
March 17, 2000, (United States Of America)
Primary Cast
Julia Roberts – Erin Brockovich 
Albert Finney – Edward L. Masry 
Aaron Eckhart – George (Erin's Boyfriend With a Bike)
Tracey Walter – Charles Embry 
Peter Coyote – Kurt Potter
Cherry Jones – Pamela Puncan
Marg Helgenberger – Donna Jensen
Edward L. Masry – Diner Patron
Jamie Harrold – Scott
Veanne Cox – Theresa Dallavale
Scotty Leavenworth – Matthew Brown
Gemmenne de la Pena – Katie Brown
Gina Gallego – Ms. Sanchez
T.J. Thyne – David Foil
Valente Rodriguez – Donald
Directed By
Steven Soderbergh
Written By
Susannah Grant 
Produced By
Danny DeVito
Michael Shamberg
Stacey Sher
"For the first time in my life, I got people respecting me. Please, don't ask me to give it up."
Erin is shown as a strong-willed, resolute lady who is eager to stand up for what is right despite the doubts of those around her. Her persona is presented as a flawed but ultimately heroic individual who surmounts personal challenges and societal biases to truly change the world.
Erin finds her real call and she decides she does not want to give this up at all, she did lose a partner in this process to serve but she gained a higher self. 
The film was a critical and financial hit, garnering nominations for and winning a number of prizes, including Julia Roberts' Oscar Award for Best Actress. It has received accolades for portraying a multifaceted and intriguing female character as well as for its strong message on social justice and sustainability.
Also Read: Even Carrie Pilby Was Not Exempted
According to our Scopo-Meter, we check the following in this movie:
| | |
| --- | --- |
| Category | Out Of 5 |
| INTENT | 5 |
| PLOT | 5 |
| ACTING | 5 |
| CINEMATOGRAPHY | 5 |
| OVERALL | BOMB / GOOD / NICE / FINE / HMM / PATHETIC |
Filmscopes thank the creators of this movie for making a future more secure and fertile for our wonderful bold ladies ready to change the world for the better.