The 2003 American drama picture Mona Lisa Smile was helmed by Mike Newell and written by Lawrence Konner and Mark Rosenthal. The tale of Katherine Ann Watson, a forward-thinking and independent-minded art history professor who worked at Wellesley College in the 1950s, is presented in the film. 
Katherine Ann Watson is portrayed by Julia Roberts. She encourages her wealthy and traditional pupils to question conventional gender roles and to think critically about their surroundings.
– Connie Baker: "Now everyone can be Van Gogh. It's so easy. Just follow the simple instructions and in minutes, you're on your way to being an artist".
– Katherine Ann Watson: "Ironic, isn't it? Look at what we have done to the man who refused to conform his ideals to popular taste. Who refused to compromise his integrity. We have put him in a tiny box and asked you to copy him."
Why Mona Lisa Is A Feminist Film?
The film is frequently referred to as a feminist film as it emphasizes the difficulties encountered by women in the 1950s. A time when they were discouraged from pursuing their hobbies and careers and were expected to conform to certain gender roles. 
The movie looks at issues like female empowerment, gender equality, and the social pressure on women to uphold certain ideals of beauty and conventional gender roles.
Release Date
December 19, 2003
United States Of America
Cast
Julia Roberts – Katherine Ann Watson
Kristen Dunst – Betty
Maggie Gyllenhaal – Giselle Levy
Ginnifer Goodwin – Connie
Julia Stiles – Joan Brandwyn
Laura Allen – Susan Delacorte 
Macia Gay Harden – Nancy Abbey
Tori Amos – Wedding Singer
Denis Cagdan – Goat 
Dominic West – Bill Dunbar
Juliet Stevenson – Amanda Armstrong 
John Slattery – Paul Moore
Marian Seldes – President Jocelyn Carr
Annika Marks – Student 
Donna Mitchell – Mrs Warren
Lisa Roberts Gilla – Miss Albini
Ebon Moss–Bachrach – Charlie Stewart
Topher Grace – Tommy Donegal
Terence Rigby – Dr Edward Staunton
Directed By
Mike Newell
Written By
Lawrence Konner
Mark Rosenthal
Produced By
Elaine Goldsmith-Thomas
Deborah Schindler 
Paul Schiff
Betty Warren, portrayed by Kirsten Dunst, is a wealthy and traditional pupil who at first objects to Katherine's lessons. She adheres to gender norms and is more concerned with getting married than pursuing a job. 
We see her as the villain whose mind is poisoned by her mother and her ideals of society. On the contrary, we find Giselle an outspoken student who challenges the conventions of her period. She is avoided by many of her peers due to a reputation for promiscuity, she wants to live free and she somehow manages to do that.
The film explores the desires of a lady to become a perfect housewife or a wife, it shows how a woman is expected to perform in society.
"You can conform to what other people expect of you or be ourselves"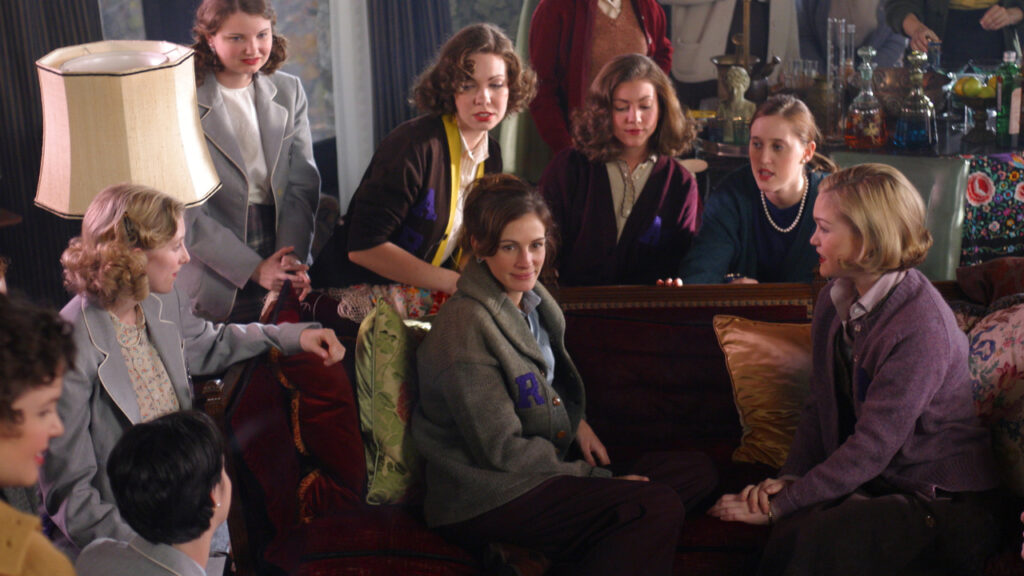 Joan Brandwyn dreams of becoming a lawyer. Joan is an intelligent and ambitious student. She finds it difficult to strike a balance between her need for freedom and her desire for a life with her fiance, unlike Betty, she is forward-thinking and is blessed with an understanding partner but she chooses her married life over a career even after Katherine suggests her that she could manage a marriage and a career. 
The film continues to unfold the ugly side of a relationship, where Betty finds out about her husband's external affair. Yet, the most unexpected happens when she decides to make a career for herself and makes it clear to her mother that she would no longer be a part of her "System". 
Mona Lisa Smile differs from other films with feminist themes in that it concentrates on a particular historical era and features a teacher who empowers her pupils to make independent decisions and follow their own paths in life. 
The movie depicts the struggles and victories of women in the 1950s and challenges viewers to consider analytically the gender roles and cultural norms that still influence our lives today.
Also Read: "Choosing Life Over False Drama": Lessons From Erin Brockovich, A 2000 Movie
According to our Scopo-Meter, we check the following in this movie:
| | |
| --- | --- |
| Category | Out Of 5 |
| INTENT | 5 |
| PLOT | 5 |
| ACTING | 5 |
| CINEMATOGRAPHY | 5 |
| OVERALL | BOMB / GOOD / NICE / FINE / HMM / PATHETIC |
FilmScopes thank the makers of the movie for digging into the history of female struggle. It's clear that the movie wants to show how our small efforts could lead up to a huge change in someone's life, sometimes knowingly, other times unknowingly. 
The scope of the film for the generations to come stands tall i.e. "A new idea is worth a try!"